Furutsu Sando (フルーツサンド), or fruit sandwich in English, is a sandwich filled with assorted fruits placed between fresh whip cream and sometimes cream cheese. It is very common in Japan and can be found in supermarkets, dessert cafes, convenient stores and department stores. The pretty and colourful look also makes it very Intagrammable.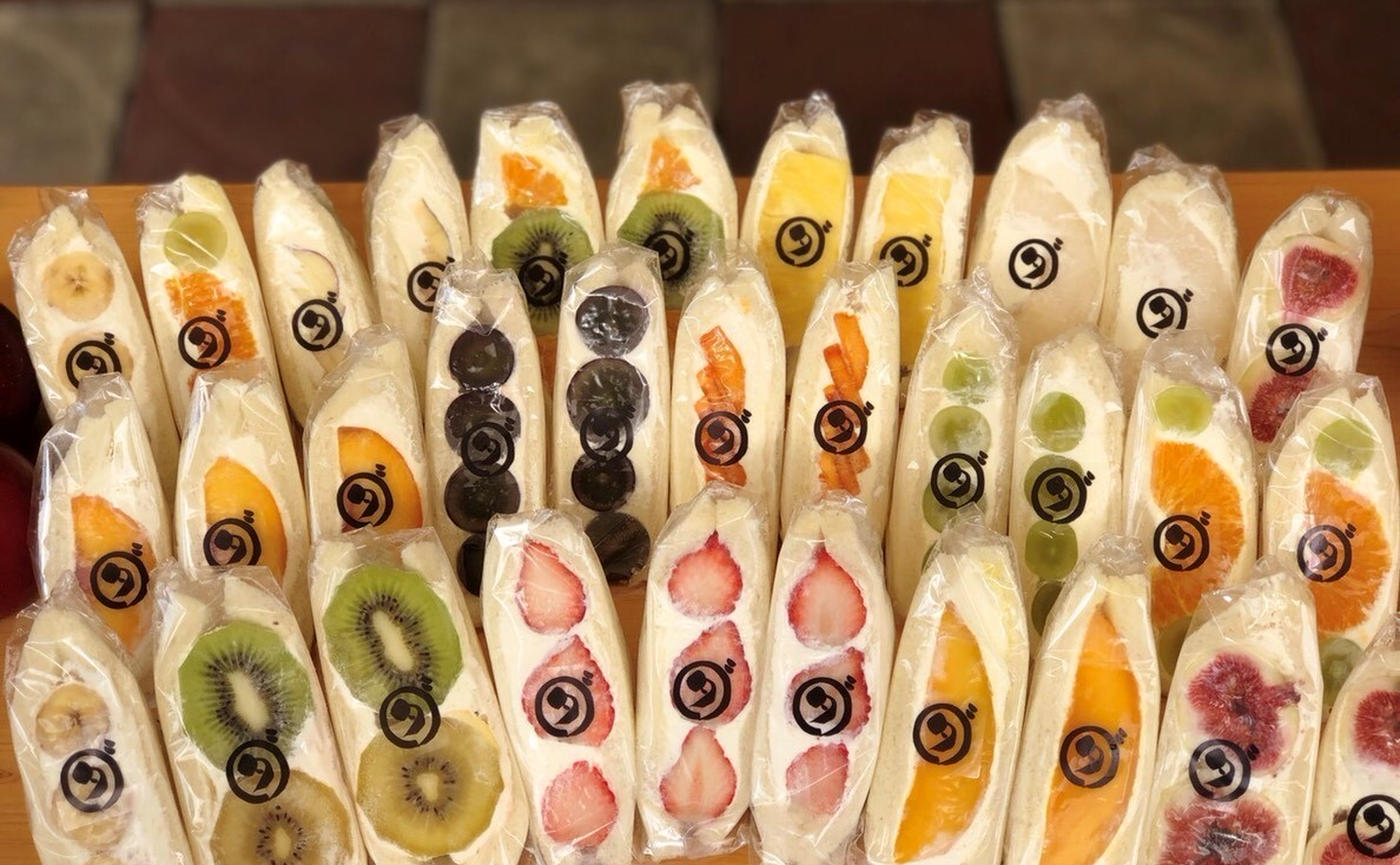 Origin
Most Japanese may think that fruit sandwiches were invented in Kyoto, and were made for Geishas and workers to enjoy fruit while keeping their hands clean. Yet, there are a few other sayings about the true origin of this recipe.
Yaoiso (ヤオイソ) Cafe is one of the oldest cafes in Kyoto found in 1869. During 1972, the 5th owner Ikuo Hasegawa visited a Fruit Lounge in Osaka and discovered a sandwich menu with whip cream, cashew and peanut as fillings. He then decided to reproduce a similar product, but replace nuts with fruits since his cafe is famous for fruits. This modified recipe may have marked the beginning of fruit sandwiches in Japan.
Another explanation is that, instead of Kyoto, fruit sandwiches first appeared in Tokyo. It was invented when Europe, America and Japan started a Japan-based cruise ship business in 1962. The fruit sandwich is designed for the sake of luxury since fruits were rare and expensive in Japan. This proposed recipe was also aiming to fit the taste of western customers and provide them with the best customer service by giving them the highest quality foods.
Kaoru Kamatani, Associate Professor of the School of Food Management at Ritsumeikan University, suggested another interpretation of the invention. He made an educated guess that fruit sandwiches and fruit punch are items made for the Japanese in the 1960s. It was to help the Japanese get used to exotic foods. Hence, bread slices are used instead of cake, which makes it seems more affordable and friendly.
Recipes
Ingredients required to make a fruit sandwich are very obvious, which includes sliced bread, whip cream and choice of fruit. It is extremely easy to make, and the only tricky part is to layout the fruit pieces. It will affect the appearance of the sandwich particularly the cut surface.
As the image has shown, there is a different layout depending on cutting diagonally or straight down in the middle. Also, wrap the sandwich tightly and settle for 10 minutes before cutting. It helps the cream to stay in shape and make the best-looking fruit sandwich.
Fruit sandwich may seem like a very basic item, primarily two slices of bread with fruits. However, the history, stories and consideration behind have made it into an interesting topic to talk about when eating it.